2018 Spotlight: Let's Talk Human Trafficking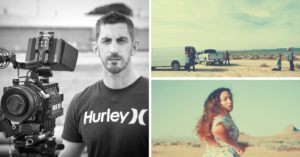 As an attempt to highlight the 2018 festival submissions, the Beverly Hills Film Festival is proud to introduce COYOTE as one of the entries in the category of Short Subject.
"I was shocked to learn that California has the most human trafficking activity in the U.S. It's disturbing that this still happens in 2017…..so close to home," says Mark Grabianowski.
And this is how it all started for Mark.
Deep in the heart of the Mexican desert, a young woman flees from human traffickers to seek refuge at the United States border.
Inspired by true events, COYOTE introduces the world of human trafficking through the life of a young woman who has escaped from her captors. In her struggle to reach the United States' border, she is confronted with a choice that will change her life forever. The character's name is Esperanza, which means Hope. Esperanza represents the many women who are suffering today as sex workers with little to no hope of escaping.
Mark Grabianowski is the Writer, Director, and Producer of COYOTE. Cole Welendorff served as the Co-Producer as well as 1st Assistant Director. Roger Viloria was COYOTE's Director of Photography. Nicolas Repetto was the talented Composer of the film. The amazing cast includes CAESAR JAMES (Ramon), DIANA DOREMPZ CAMPOS (Esperanza), JOHNNY REY DIAZ (Marco), GEORGE CAPACETE (Carlos), CLINTON ELLEDGE (American Hitchiker), JESSE CHARLES (American Hitchiker), and DIEGODIEGO (Santiago).
Mark adds that human trafficking is a hot topic right now. It's basically modern day sex slavery. In COYOTE, the protagonist Esperanza, is being taken to the United States' border to be sold. "I wanted the U.S. border to represent the connection human trafficking has to North America while also serving as Esperanza's only hope of escape. I introduced the American influence through two wandering American hitchhikers whose help is neither given nor useful, as a statement for how disconnected the majority of Americans are," concluded Grabianowski.
Mark wanted to bring awareness to the issue of human trafficking through a narrative that people can connect with. His wish is for people to realize that human trafficking not only happens in less developed countries such as Mexico, but worldwide, including the United States. It's right here at home. Mark is from Northern California, which is a symbol of the tech industry and modernism, but he was shocked to learn about the high percentage of human trafficking activity in this glorified state.
Directing is Mark's passion. "It's the only thing I want to do with my life. I want to use my skills to tackle real world problems and hopefully educate as well as entertain," says Grabianowski.
If selected as a finalist, COYOTE will be screening in the heart of Hollywood, at TCL Chinese Theatres from April 4th to 8th, 2018.
The Beverly Hills Film Festival is truly fascinated with all the selection of films and screenplays entered into the festival thus far. SUBMISSIONS ARE STILL OPEN! To be a part of this spectacular group of filmmakers and screenwriters, SUBMIT your film and screenplay here. 
And, of course, good luck to all who have submitted their work so far!