BHFF 2016 Presents: SHORTS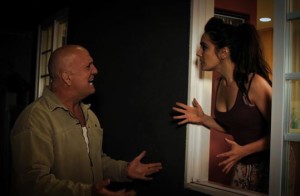 BHFF 2016 Presents a collection of eccentric short films that adds a full tablespoon of fresh zest to this year's festival. If you've ever felt as though your bathroom mirror was quite occupied with writing its own diary, or if you thought it would be a great idea to assign yourself a professional stalker, you will, indeed, enjoy this collection of films.
Join us on April 6th at 3:00 p.m. to watch this refreshing set of shorts:
Making Baby tells the story of Kim and Dave who wish to have a baby. After many failed attempts at a fertility clinic, they are now strapped for cash. A new ray of hope comes in when Kim's sister Adele offers herself as a surrogate. But where family relationships are involved, things never go as planned.
In A Stalker Breakup, a stalker tries to break up with the girl he's been stalking. It's not as easy as it sounds.
"This Is Goodbye" is a a musical short about one young woman's emotional journey through love, heartbreak and redemption. All told through her bathroom mirror.
Make Like a Dog is the story of frustrated, angry and infertile, Stanley and Elvira will try anything to pull their relationship out of the dog house.
In the Daze of Things tells the tale of two men who don't know each other: an American and a Frenchman. They meet up in a Parisian apartment concerning a very important topic to the both of them. We'll let's see what happens in that apartment!
Under house arrest, Mr. Richard Francis tries to beat the system only to have the system beat him.
"Wally's Will" is a dark comedy set in a fictional world where our protagonist is an older and very eccentric aristocratic woman. Together with her loyal servant, Doofus, she will have to fight to uphold her crumbling old-money empire against friends, enemies and some unexpected conspiracies.
In The Cobbler and the Diamond, a down-on-his-luck private eye is torn between his client's search for her missing diamond and his own search for peach cobbler.
Feeling of Falling: Plagued with the fear that he accidentally ran over his former teacher's dog, 23 year-old Addy returns home for Christmas but decides to escape his family for a night and ends up in a strange but familiar situation.
In Poor George, George lives in two worlds. One perfect, his dream world, the other, his mundane real life, a living hell. Taking drastic measures, he enacts his plan to be in his dream world forever with his perfect girl, Dora. But that world it is not all as it seems. He soon learns there's a fine line between dreams and nightmares. Be careful what you wish for.