MMA Film Merger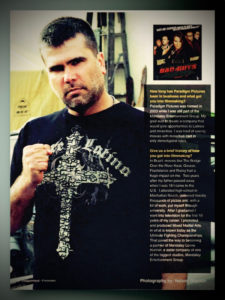 What is the ultimate crown jewel in a true fighter's world? Is it, perhaps, coming to Hollywood? MMA Film Merger!
Involved in Martial Arts from an early age, Lapenda introduced the first MMA fighter in the UFC, and he philosophized that only a complete fighter would be able to compete in the sport from that point on. That is why he is  known as one of the Godfathers of MMA. Frederico is responsible for the globalization of MMA, producing more than 100 fights in 15 countries.
During a casual sit-down, Frederico recalled fighters who merged their unique skills with the film industry. "Bruce Lee was the first in the action game to be in Hollywood. Then there is Chuck Norris. As you continue, there is generation after generation of this particular transition. The first fight movie that truly inspired me to become a part of that world was Rocky. Many fighters were continually inspired by such skilled men transitioning into the cinematic world."
It is fascinating to understand what leads fighters in ultimately attaching their professional identity to the film industry. Frederico expressed that "fighters are able to master very unique skills; they are mentally capable of putting everything on the line, measuring themselves against another man. It gives them a very special sense of confidence, and this elevates them into a completely different dimension. Men have been competing in a head to head combat for centuries, and fighters are very well respected throughout society." The merger between a fighter's professional identity in society and the caliber that is associated with the film industry create an even more powerful and influential image as a whole. It is for this reason that the world is going to witness even more MMA fighters going into the film industry.
What drove Frederico to Hollywood was the challenge that was not just for anyone. Though he overcame the challenge, he preserved the initial premonition he had for the arts.
Frederico's professional career upon entering the film industry has brought forth numerous flavorful rewards. In the 2008 Beverly Hills Film Festival, Bad Guys, produced by Frederico Lapenda, starring Sherman Augustus, Lee Barron, Tracy-Marie Briare, and Kate del Castillo, was honored with the Best Picture Award.
Also, Sequestro, a rather influential documentary produced by Frederico, received the Best Documentary Award at the 2011 Beverly Hills Film Festival.
Upon participating and being awarded at the Beverly Hills Film Festival, along with establishing an intellectually progressive and reforming relationship with the BHFF president and founder, Nino Simone, Frederico brought forth the innovative idea of launching the Beverly Hills Film Festival Japan. After receiving Mr. Simone's approval and support, both Frederico and Nino founded and produced the very first Beverly Hills Film Festival Japan in 2013, allowing uniquely skilled Japanese filmmakers to express their artistic viewpoint to the western cinematic community through the constructively valuable lens of approval and eminence that is the Beverly Hills Film Festival.
Attend the 16th annual Beverly Hills Film Festival from April 6th-10th to meet talented individuals who have successfully merged their professional skill set with the unique quality of the film industry that is only represented by the Beverly Hills Film Festival.
The 16th BHFF has chosen a rare collection of films to screen, and their filmmakers' careers will be forever changed by the label of approval and quality that is the Beverly Hills Film Festival.
To see the exceptional collection of films and to gain access to tickets and passes, please visit the BHFF official Box Office.