Women in the Biz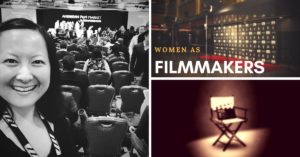 A narrative by Jessie Wei: Actress, writer, producer
There has never been a better time to be a woman in the film industry. In recent years, we have seen more and more women actively taking on above-the-line roles as Directors, Producers, Writers and Cinematographers, which have traditionally been male-dominated roles in filmmaking. Films made by women have not only added a welcoming fresh perspective to the world of visual story-telling, they have also been highly profitable at the box offices worldwide. With the successes of "Wonder Woman" directed by Patty Jenkins and "Moonlight" produced by Dede Gardner, the film industry is recognizing that it just makes sense to embrace a culture of inclusion and expansion. The worldwide audience is reward diversity, and that is a great thing for the film industry. As a woman filmmaker, while I recognize that there are still some challenges and barriers facing me, I also recognize that are now more opportunities than ever for women to actively participate and be influential in the film industry. I am highly optimistic about the future, and I look forward to offering my voice to the mix.
Last week (11-16-2017) I had the opportunity to attend my first ever American Film Market (AFM) 2017, held in Santa Monica, California. As a female filmmaker who started her career in acting, and who only recently started dabbling in film producing, it was a real eye-opening experience for me to learn the business side of filmmaking.
I had never seen so many Directors, Writers, Producers, Distributors, and Sales Agents, many of whom are also actors, cinematographers, special effects makers – you name it – film artists who wear many hats, gathering together in one place, making films possible.
The AFM event was held at the beautiful Loews hotel by the Santa Monica beach. Levels of hotel rooms were stripped of beds and converted into office spaces where sellers presented their films for sale and deals were made for future film projects. The hallways were adorned with posters for films that will be released in the years to come. Additionally, there were conferences held daily where big time filmmakers like Pilar Alessandra (On The Page), Cassian Elwes (Producer), Alison Thompson (Cornerstone Films), and Dana Lustig (Director/Producer) came to mentor us about film writing, production, financing, and distribution. I felt like a little kid visiting Willy Wonka's Chocolate factory for the first time.
It was easy for me to get lost in the excitement, but I had to force myself to focus on my two main goals – to 1) Learn and 2) Meet other filmmakers, particularly other women filmmakers. I feel blessed to say that I got to do both, and much more. As a newbie producer, I used to think film financing was a major challenge for filmmakers; however, one film distributor I spoke with said something to me that I will never forget, and that was: "The river runs with gold for good content." That line snapped me back to reality, because it is the truth. Good content – THAT is how films get financed.
I have to admit – it was intimidating for me, a newbie producer, to even dare to speak to the seasoned, veteran producers and distributors who are used to working with multi-million dollar budgeted films. Why would they want to talk to me? – I thought. However, I was surprised to witness how helpful, welcoming, and generous with their time many of them were at sharing their knowledge with me about the film business. The knowledge they gifted to me was just what I needed to steer myself in the right direction for me to become a successful producer in the future and create opportunities for my beloved film artists.
No doubt the biggest inspiration for me was seeing so many amazing women working in all aspects of the film business – from Writing, to Directing, to Producing, and to Distributing. In fact, I learned that one of the top Sales Agents in the industry is Lisa Wilson – you go girl! It was also inspirational to see so many male filmmakers being genuinely supportive, and encouraging of women filmmakers in the industry. It was very obvious to me that the film community really was an ecosystem glued together by collaboration. Seeing all of that made me feel like I was not alone. I felt like I belonged and I wanted evermore to be a part of it. That feeling was a high that I could not have gotten anywhere else in this world.
I came out of the AFM feeling more inspired than ever. After the event, I couldn't wait to travel back to my home in Alaska and get right back into writing my screenplay for my next film project. I have acquired knowledge and new contacts from the AFM that I could not have gotten anywhere else in the world. I am so grateful that I got to go to the event and I highly recommend it to all filmmakers who are serious about living their dreams. For me, the investment to go to the AFM paid for itself a hundred times over.