2017 Kick Start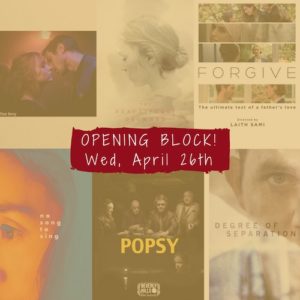 A true kick start to a fabulous festival! Guess what films are starting off the 17th Beverly Hills Film Festival?
The BHFF 2017 opening block on APril 26th, 2017 at 3:00 p.m. screening at the TCL Chinese Theatre:
FORGIVE (11 MINUTES)
DEGREE OF SEPARATION (15 MINUTES)
POPSY (18 MINUTES)
THE TURTLE (22 MINUTES)
THE BEAUTIFULLY DROWNED (24 MINUTES)
NO SONG TO SING (33 MINUTES)
This year, the Beverly Hills Film Festival will showcase an unforgettable collection of films–a truly unique set of stories that will leave you wondering why you don't hunt-down a festival film every single weekend!
From the films screening in Block 1 on Wednesday, April 26th, Forgive tells the story of a dying woman who reveals to her husband that their beloved only child is a product of a past affair; it explores the theme of all-consuming loss in the wake of a devastating revelation. You should decide if a father's love endure such a betrayal.
Set in modern Australia, Degree of Separation follows the story of Troy as he navigates his life under the ever-present cloud of domestic violence. An unlikely ally is found in Virianna, an immigrant postal worker, but unbeknownst to Troy, Virianna has her own demons to face.
In Popsy, an adaptation of a Stephen King short story, Weber's addiction to poker leads him into deep trouble. Forced to cover his debt to Mr Rudy, he reaches a point of no return.
Julien Homsy, the director, producer, and writer of Popsy notes a fascinating anecdote about the making of the film. "I really wanted a Metallica song for it. I was so thrilled when Qprime NY got back to me to say that 'the band saw the film,' that they liked it and were letting me use the song as a courtesy!" Now how about that?
In The Turtle, Leo, ten years old, has an older brother, Bastien. Bastien meets Julie in the grim bathroom of this nightclub. She is going to invite herself in Leo and Bastien's lives. For a weekend, all taboos and rancours are going to emerge, and it will lead to the inevitable confrontation between the two brothers.
The Beautifully Drowned is a maritime fairy tale about a woman who longs for the day her husband will drown at sea.
And lastly, No Song to Sing tells the story of a professional femme fatale who enjoys selling fantasies to lonely men but when she becomes caught in the web of her own deceptions, she finds herself unable to pay the price of her own merchandise.
Join us at the TCL Chinese Theatre on Wednesday, April 26th at 3:00 p.m. for this unique opening block to kick-start the 17th Beverly Hills Film Festival by dedicating our attention to the limitless art of story telling.