BHFF 2016 Presents Documentary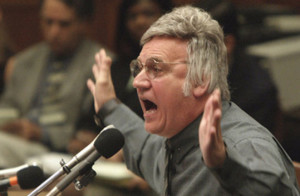 Young actor, Dylan Playfair, seeks the answer to this question: why so many young people don't vote and are turned off by the political system in western democracies while in other parts of the world, young people are dying for the right to vote?
His journey takes him from Vancouver to Ferguson, Missouri, via Ottawa, the Burning Man in Nevada, Mayor Rob Ford's Toronto, and North Carolina. The film played on Canadian television prior to Canada's recent election and its new charismatic Prime Minister Justin Trudeau, who is in the film, benefited from an increased turn out by young people.
In the same block on April 7th, the 16th annual BHFF will screen Eric Murphy's Traficant: The Congressman of Crimetown.
Before Trump, Before Sanders, Before Frank Underwood — Congressman Jim Traficant was the original bombastic populist but with mobbed up street cred. As sheriff, Traficant beat organized crime, defeated the Justice Department in a RICO case…he even vanquished President Clinton. Once in DC, Traficant became infamous for his polyester thrift store suits, shock top wig, vulgar humor and profanity laced rhetoric against the FBI, IRS, and every president since Reagan. The self proclaimed "son-of-truck driver" lampoons the hypocrisy of modern politics while standing tall for his blue collar steelworkers of Youngstown, Ohio. Featuring rich archival footage and extensive interviews with Youngstown's favorite TV legend Modern Family's Ed O'Neill (also producer), Congressman Tim Ryan, and Hall of Fame boxer Ray "Boom Boom" Mancini, Murphy's documentary is an illuminating and captivating portrait of of the most unraveled politician in American history.